International Women's Day
This video was produced for Komatsu Mining Corp. Group to share internally and externally for International Women's Day 2019.
All rights owned by Komatsu Mining Corp. Group.
Milwaukee Dishes Diverse Tastes
This story was featured as the cover story in 2015's Curb Magazine.
Photos by Thomas Yonash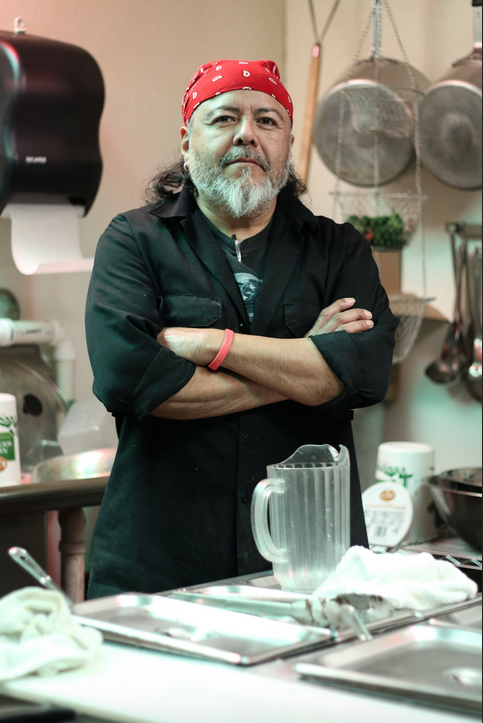 It's 3 p.m. in Milwaukee. Traffic on the East Side is in a lull between the lunch rush and post-work traffic. Take a hard right off West North Avenue onto North Murray. On this street, dimly lit bars alternate with trendy lounges and whimsical patios. In between it all stands Mr. Señor's Mexican Restaurant, and for owner and operator Dude Llanas, the day has just begun. He arrives at his establishment mid-afternoon after cooking, serving and entertaining Milwaukee's night owls until 3 a.m. earlier that same day. Despite the long hours, Llanas, 56, is eager to go to work every day and proudly prepare his family's recipes, all from scratch, for the impending night.
To Llanas, hard work is something to embrace and a characteristic he believes is tied to his family through its Mexican heritage. Latinos have, and continue to, come to Wisconsin, make better lives for themselves and contribute positively to various communities throughout the state. This is a familiar story. Wisconsin has been a refuge for ethnic groups since its beginning, with immigrants coming from Germany, Italy and Mexico, to name a few. For immigrants, life in Wisconsin has been about balancing a cultural identity that is tied to their homelands and evolving as their everyday experiences and lifestyles have become more American.
Milwaukee embraces its immigrant background as home to an abundance of culturally confident residents from around the world. "We celebrate the diversity of the city…where different cultures share their food. There's a real consciousness where people want to celebrate ethnic culture," explains Joseph Rodriguez, co-author of "Latinos in Milwaukee" and history professor at UW-Milwaukee. This consciousness is precisely on what Milwaukee's food scene thrives.
Milwaukee has been culturally influenced, especially in the food scene, since immigrants began coming to the city in the mid-19th century. The emergences of German brewers and beer halls, Polish pierogi and paczki shops, Italian delicatessens and bakeries, Irish pubs and Asian markets continue to be fundamental elements to the city. Today, Llanas continues the tradition of cultural influence by offering his family's recipes – rolling the tortillas out by hand and cooking with the peppers hanging in the front windows of his restaurant.
"I've always had passion, no matter what I'm doing, to achieve more than Mexicans were supposed to achieve," Llanas explains. "I had a deep drive to be successful because I was Mexican and growing up so poor, I just had to be successful in what I did. So I did it."
Growing up, Llanas recalls his parents encouraging him and his siblings to conform to the American lifestyle and culture. "I should be really fluently bilingual, and I'm not – because they're like, 'No, we have to learn English, we have to be American.' It was bizarre. You were embarrassed to eat tortillas anymore; you had to have white bread. It was really strange. A lot of cultures had to forget. Some didn't but they were harassed more, they were picked on," Llanas says.
Llanas' grandparents, both from border towns between Texas and Mexico, were granted American citizenship in the early 1920s. Starting their American lives in Texas, the Llanases moved to find work from Texas to New York, to Minnesota, before settling in Waukesha, Wisconsin, outside of Milwaukee, where they acquired farmland and worked in factories.
"We had a lot of numbers, but we were really kept down. My mom and dad even said to me, 'Well you're just going to work in a factory.' And that's really how their minds were kind of twisted," Llanas recalls. "Mexicans were factory workers."
Llanas, however, has always been inspired to find and follow his passions. "Growing up I had a place that was similar to [my place now] – it was run by an Italian guy who really taught me to think past being what we were told to be. So I had this idea, and I just kind of went for it," Llanas says.
For more than 20 years, Llanas owned and operated O Salon & Spa. In 2010, he decided to convert the space to Mr. Señor's Mexican Restaurant. The openness of Milwaukee's East Side, along with a resilient belief in hard work ethic and strong family values and recipes, are what inspired Llanas to finally pursue his dream of being a restaurateur. Always passionate and to the point, Llanas, a father of three, dedicates long, late hours and operates the restaurant, often times with only one other person. His kitchen is his space, and he radiates pride through his food.
"I knew this neighborhood needed authentic, good, handmade, cooked-with-love Mexican food – like I grew up on. And this is exactly the food that my grandma made me," Llanas says.
The passion Llanas holds for his heritage is common amongst ethnic groups in Milwaukee. Various community centers around the city hold events for proud members of their cultural societies; new Spanish and Portuguese restaurants are making an impression, and the Hmong community continues to grow and contribute to some of the state's most popular farmers' markets. Along with the new cultural additions, authentic German, Italian, Greek and Serbian establishments remain strong representations of the immigrants who settled in Milwaukee.
Two and a half miles south of Mr. Señor's Mexican Restaurant, inward from Lake Michigan, is Old Third World Street. This six-block stretch is home to some of the most popular Italian, Thai and American restaurants in the city. It boasts some of Milwaukee's hippest hangouts where millennials are found late at night for drinks, only to return the next morning for brunch.
While many establishments have come and gone on Old Third World Street, Mader's German Restaurant has been rooted there since 1902. It attracts celebrity visitors, tourists and Milwaukeeans for a brew, a brat and maybe a side of schnitzel. Paired with the eccentric and authentic Germanic atmosphere, Mader's exudes cultural affection. Daniel Hazard, the general manager at Mader's, understands the importance of continuing to offer genuine ethnic food. "We have a lot of recipes that are traditional, that go back three generations of family ownership, so we keep that alive," Hazard explains. "That's our business. It's part of the community."
Now, travel north, past the water tower that looks like Cinderella's castle, past Mr. Señor's Mexican Restaurant and land on the corner of UW-Milwaukee's campus. On North Oakland Avenue, surrounded by the good company of Russian, Jewish and Chinese food businesses, sits Carini's La Conca d'Oro. Proud to share his culture's cuisine is the restaurant's Sicilian owner and chef, Peter Carini. "The food we cook is simple and fresh. All of the ingredients are fresh, so the simpler the food, the better it is, you don't overpower the food. [It's] like my grandma used to cook," Carini says. "Milwaukee has a lot of European people – there are a lot of Italian and Sicilian people in Milwaukee too, so I think a lot of people in Milwaukee like Italian food."
Often times, ethnic groups who immigrated to Wisconsin settled together in neighborhoods, forming close-knit communities. Comfort came from being surrounded by others who spoke the same language, celebrated similar traditions and rituals and ate familiar foods. The neighborhoods would have churches, grocery stores and restaurants aimed at the ethnic groups, offering services and information in their native tongue and serving as a gathering place for the community. This pattern continues today; however, as time moves forward, the lines between ethnic communities and neighborhoods begin to diminish, blend together and intermingle.
One prime example of this is Milwaukee's South Side, a neighborhood that was largely populated by European immigrants and quickly became the area of the city inhabited primarily by Latinos. The abundance of Latino eateries, in addition to other cultural establishments such as art galleries, provide revenue for the community and an opportunity for non-Latinos to learn about the culture, according to Rodriguez, who moved to the city in 1991 to work at UW-Milwaukee. He commented on the infiltration of the European-turned-Wisconsin cultural staple, the Friday fish fry, saying certain Latino restaurants offer the popular dish to attract more Milwaukeeans. Furthermore, Rodriguez explained the positioning of a restaurant impacts its cuisine, saying that if two restaurants of differing ethnicities are side by side, they may influence one another to explore each other's styles.
The concept of cultural synergy can be seen—and tasted—at many of Milwaukee's restaurants. At Merriment Social, founded in 2015, Asian dim sum is fused with twists on American classics. La Merenda, a mainstay of Milwaukee cuisine since 2007, offers small plates and international dishes made with Wisconsin ingredients. The Milwaukee Public Market, founded in 2005, hosts a collection of multiple cuisines, all under one roof.
The blending of cultures can also be seen in the some of Milwaukee's most traditional ethnic restaurants such as Mader's and Carini's La Conca d'Oro.
"We run the equivalent of 17 off-site food operations in the summer. We do Irish food, we do Polish food, we have a very trendy menu at Summerfest … We kind of adapt to what we're doing – we have very talented chefs," Hazard says of how he has seen Mader's Restaurant modify its menus throughout his 25 years working there.
Similarly, Carini has had to adapt the Italian and Sicilian food he has served in his restaurant since 1996 to better fit the trend of healthier living. "We're changing with the time – 20 or 30 years ago, it was heavier food, and now, it's lighter. The changes are because people are watching what they're eating," Carini explains.
Culture influences cuisine, while at the same time cuisine defines culture. A simple Google search for "Wisconsin cuisine" yields the following results: cheese curds, brats and beer. Search "American cuisine," and images of barbeque, hamburgers and hotdogs flood the screen. Food helps identify and bring together communities. It can also educate and empower communities.
It is 2:30 a.m. in Milwaukee. The bars are closed and the streets of Milwaukee's East Side are once again in a lull. Turn onto North Murray Avenue, and there is a glow from fluorescent ceiling lights scattered on the sidewalk. There is a line of people – some rowdy, some quietly conversing, all knowing they should already be in bed. Behind the windows from where the fluorescent lights are shining, Dude Llanas is taking orders, stuffing burritos and breaking his homemade tortillas into chips to create a heaping pile of nachos. He knows he will be back at it the next day and that hours like these would drive most people crazy. He knows he has a rich cultural heritage behind him and an increasingly long line of hungry patrons in front of him. Most importantly, he knows he is making good food – really good food – exactly the food that his grandma made him.
An Outside Perspective
This video was produced as a multimedia story for 2015's Curb Magazine.
Milwaukee County: Neighborhoods
This infographic was created for Discover Milwaukee, the city's top relocation guide, to showcase the neighborhoods of Milwaukee County.
Waukesha County: Neighborhoods
This infographic was created for Discover Milwaukee, the city's top relocation guide, to showcase the neighborhoods of Waukesha County.
United by Red, White and Bucky Badger
This story was written for a class as part of a collection that focused on the University of Wisconsin - Madison's football game day experience. It captures three different views of game day: one from a football player, one from a band member and one from a student section season ticket holder.
The University of Wisconsin – Madison provides one of the best college town football game day experiences, confirm readers of USA Today. Three students: one football player, one UW Marching Band member and one faithful season ticket holder explain their game day timelines and why they think the experience is one of a kind.
Connor Senger, a sophomore at the UW hoping to study accounting, is a quarterback on the football team. "Growing up and playing football in Wisconsin as a kid, it's always a goal to play for the Badgers and just play at Camp Randall," Senger said.
This year, Senger, originally from West Allis, Wisconsin, is the fourth out of six quarterbacks in line to play, however, he always prepares as though he will be starting the game.
On game day, the team arrives at the stadium, drops their belongings in the locker room and relaxes on the field. "Then we come back inside and there's a schedule on the board for position groups for who's going out to warm up when and doing different things with different positions," Senger said.
As a quarterback, Senger's warm up routine includes throwing the ball with the other quarterbacks, working with various position groups, practicing running routes and stretching with the strength coach. Then, the whole team runs through a few plays together.
"Then we head back inside and we kind of sit there for 10 minutes, just gather our thoughts and get ready to go. The team chaplain Father Mike comes around and he blesses each position group," Senger said. He continued by saying the players have an opportunity to participate in a pregame prayer with Father Mike and then Coach Andersen, the head coach of the UW football team, gives his warm up speech and the team heads onto the field.
During the game, Senger is responsible for observing action on the field and communicating on his headset with the offensive staff. He also signals plays from the offensive coordinator to the quarterback on the field.
Following the game, the team sings On, Wisconsin! on the field with the UW Marching Band and then retreats to the locker room.
The band then kicks off the Fifth Quarter, described by the UW Badgers website as a post-game celebration where fans dance, sing and cheer with the UW Marching Band.
Shawn Laursen, a junior at the UW majoring in genetics, plays an integral part in the Fifth Quarter as a trombone player in the UW Marching Band. When applying for college, Laursen, originally from Mauston, Wisconsin, said, "If I was going to go to UW, I was going to be in the band."
Laursen's commitment to the program has shaped his college career, including his game day experience. "It shapes it quite a bit 'cause it's a huge time commitment. It's four days a week, two hours a day for practice. And then it's pretty much all day Saturday [for game day]," Laursen said. He continued to explain other commitments such as playing at Packer games, high school games or private gigs.
On game day, Laursen said because of the early games this season, he has to be up and at the band field by 7 a.m. to run through the pregame and halftime routines.
"Mike tries to pump us up for the day and tells us what we need to do to be great," Laursen said of band director, Michael Leckrone, at the morning rehearsal. The band is then dismissed to go back to their respective homes and put on their uniforms.
Laursen said there is a possibility he would have to play at a tailgate or other gig before meeting up with the rest of the band for the Badger Bash. "Then you have to be to Union South at about 9:30 or 9:40 and then we go underneath to the loading dock and put on our hats and our spats [white coverings over the shoes] and gloves and put our plumes [feathers that stick out of the hats] in. And then we march out to behind Union South and play the Badger Bash, which is where we play On, Wisconsin! and the pregame tune and the halftime show," Laursen said.
From there, the band marches over to Camp Randall Stadium and waits in the tunnel for the drum major to whistle them onto the field.
Led by the drums and tubas, the band runs onto the field and plays the pregame show. The band then finds their seats in the lower, middle part of the student section. "We don't really interact with the student section very much. We are all supposed to be watching the game and waiting for Mike to call the song, if there's a song that needs to be played. You're supposed to be standing up, watching the game and cheering and paying attention a lot," Laursen said.
"The band performs the halftime show, after which the members receive apples and water and continue to watch the game and Leckrone for play signals," Laursen said.
After the game, the band's routine includes playing Fifth Quarter, marching out of the stadium and playing a few songs right outside the student section entrance of the stadium. They then march back to the Humanities Building, the band's home base, and then Leckrone debriefs the day.
"We sing Varsity and then we're dismissed and we have to go turn in our uniforms so they can be dry-cleaned for the next week. Then you're pretty tired so usually you go to sleep or something for a little while," Laursen said.
Napping seems to be a popular activity on game day, as Sam Walton included it when sharing his routine as well.
Sam Walton, a sophomore at the UW hoping to major in geological engineering, is a football season student ticket holder and his love for the University started at a young age. "I just always wanted to go here since the first time I ever thought about going to college – that was probably in about seventh or eighth grade when my dad was taking me to Badger Games," Walton said.
Originally from Milwaukee, Wisconsin, Walton enjoys game days matching his girlfriend in red and white striped bibs (overalls). "I wake up, put my game day bibs on, and then probably go to a party on Breese Street or something, right next to Camp Randall. And then some days I'll be there [the party] pretty close to game time and some days I'll try to get in there [Camp Randall] pretty early and get really good seats," Walton said.
In the stadium, Walton said his favorite parts of the game with his fellow Badgers include singing Sweet Caroline or Build Me Up Buttercup, participating in Jump Around and, of course, paying close attention to the plays on the field. "I like On, Wisconsin! and I really like By the Light of the Moon," Walton said.
Walton ends his game day experience with a nap or a workout session and then considers continuing to celebrate being a Badger later in the night.
The UW game day experience has been recognized as one of the best, confirmed by Bleacher Report and readers of USA Today. However, UW Associate Dean, Kevin Helmkamp, said the day could be improved by being more accepting of fans from opposing teams. Madison unites by wearing red and white; however, fans wearing other colors should be welcomed to celebrate the love for their school and football team, so everyone can enjoy UW game day.